As in centuries past, individuals and families had themselves immortalized in paintings and later in photographs. Our desire to preserve our existence and accomplishments for future generations has not diminished…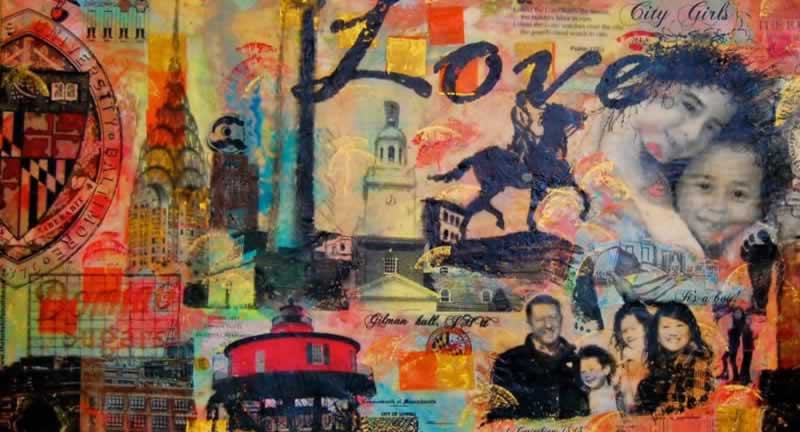 I offer a contemporary update to the traditional portrait by allowing the client the opportunity to fully customize the contents and color scheme of the art piece. Yours will have your story woven into it: highlighting significant accomplishments, important names and dates, photographs of meaningful faces or places as well as favorite words and quotes.
The result is an abstract painting, beautiful and intriguing to look at, yet woven within the work, a story known only to the owner.
I would be happy to discuss the creative process involved with custom Bio Paintings. Note that all sizes can be ordered as custom work. Please  contact me for details and prices.
Detail of the painting 4 Carolyn which was created as a wedding anniversary gift .
Detail of painting titled 4 David – a work commissioned from a young man who had served two tours in Iraq and was injured the same date, but different year, his mother had passed away. These dates as well as, his platoon insignia, photos of the purple heart he received and a personal photograph he took in Iraq are all blended together into the painting.
Detail of the painting 4 Jessica which was created to remind the client of the city she loves and grew up in. Woven throughout the painting, amongst famous Chicago city sites, is the address of her family home, her birthday and her schooling.